If you're here, then I'm sure you're all too familiar with the hair changes that occur with age. 

- Your growth rate slows.
- Hair texture becomes coarser, thinner and more wiry.
- Your scalp produces less oil needed for hydration and protection.
- And of course, gray hairs begin to sprout up all over the place. 
Perhaps this sounds rather grim. But I would beg to differ! Mature hair simply has a new set of challenges and needs a different kind of care.
There is so much you can do to bring out the best version of your hair - and your natural beauty. Here's the secret...
Hair health! If your hair is healthy you will look fabulous at any age.
And you'll be far less likely to experience frizz, thinning, brittleness and dullness.
To assist you on your hair-care journey, here are my...
TOP 7 TIPS
For healthy and radiant hair as you age. 
1.
The most important tip of all: 

limit exposure to chemicals

This is the one thing that will completely transform the health, look and feel of your hair.

The main offenders are SLS and SLES. These are harsh petroleum-based detergents that are found in almost all shampoos.

They're cheap and strong, but far too overpowering for delicate mature hair.
SLS and SLES strip your hair of moisture and leave your locks dry, brittle, and frizzy.
To make matters worse, both chemicals are skin irritants. Which means more fall out and a dry, sensitive scalp.
The solution is to switch to a natural shampoo and conditioner.
This gentle alternative will restore your hair back to health and vitality.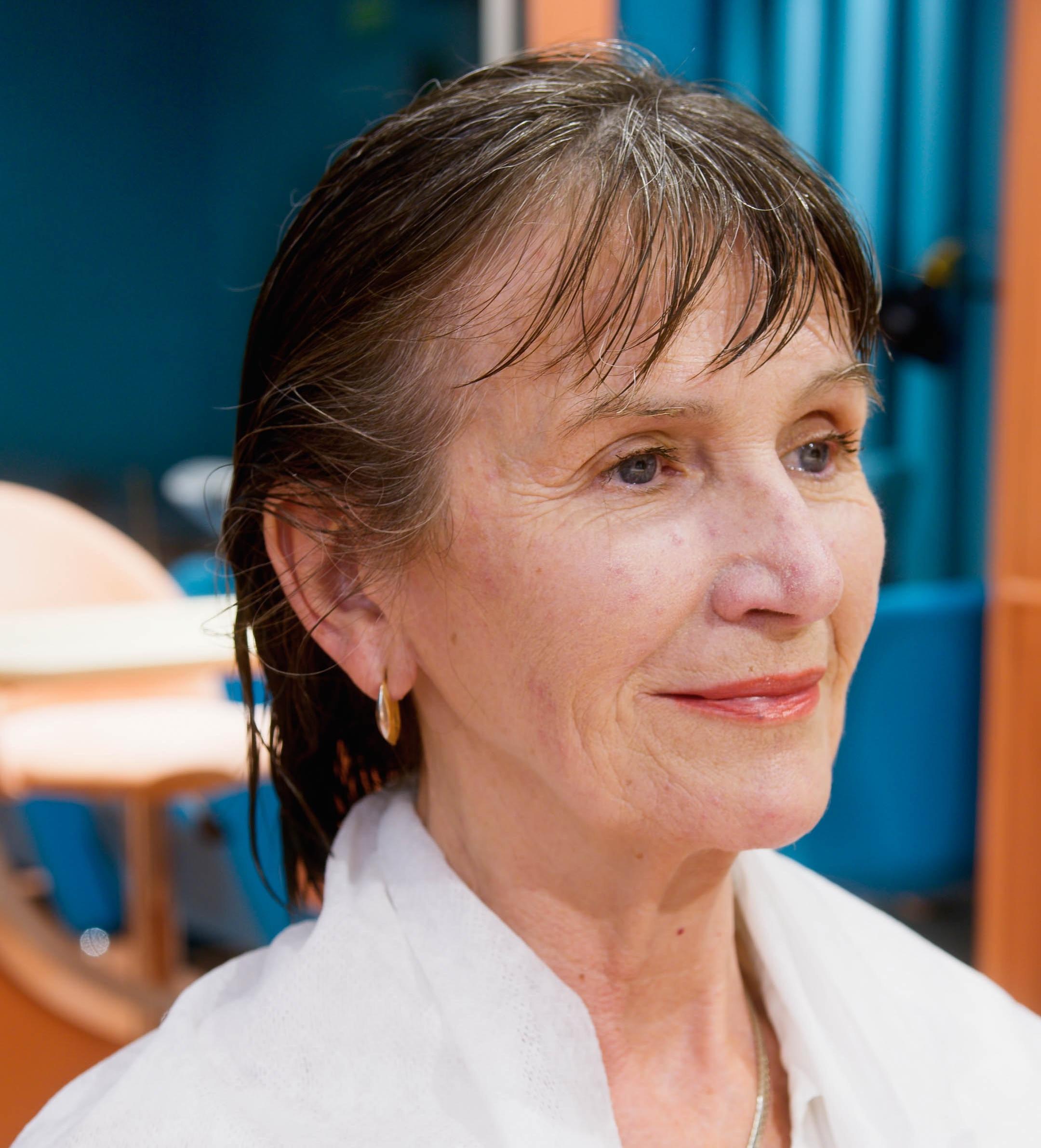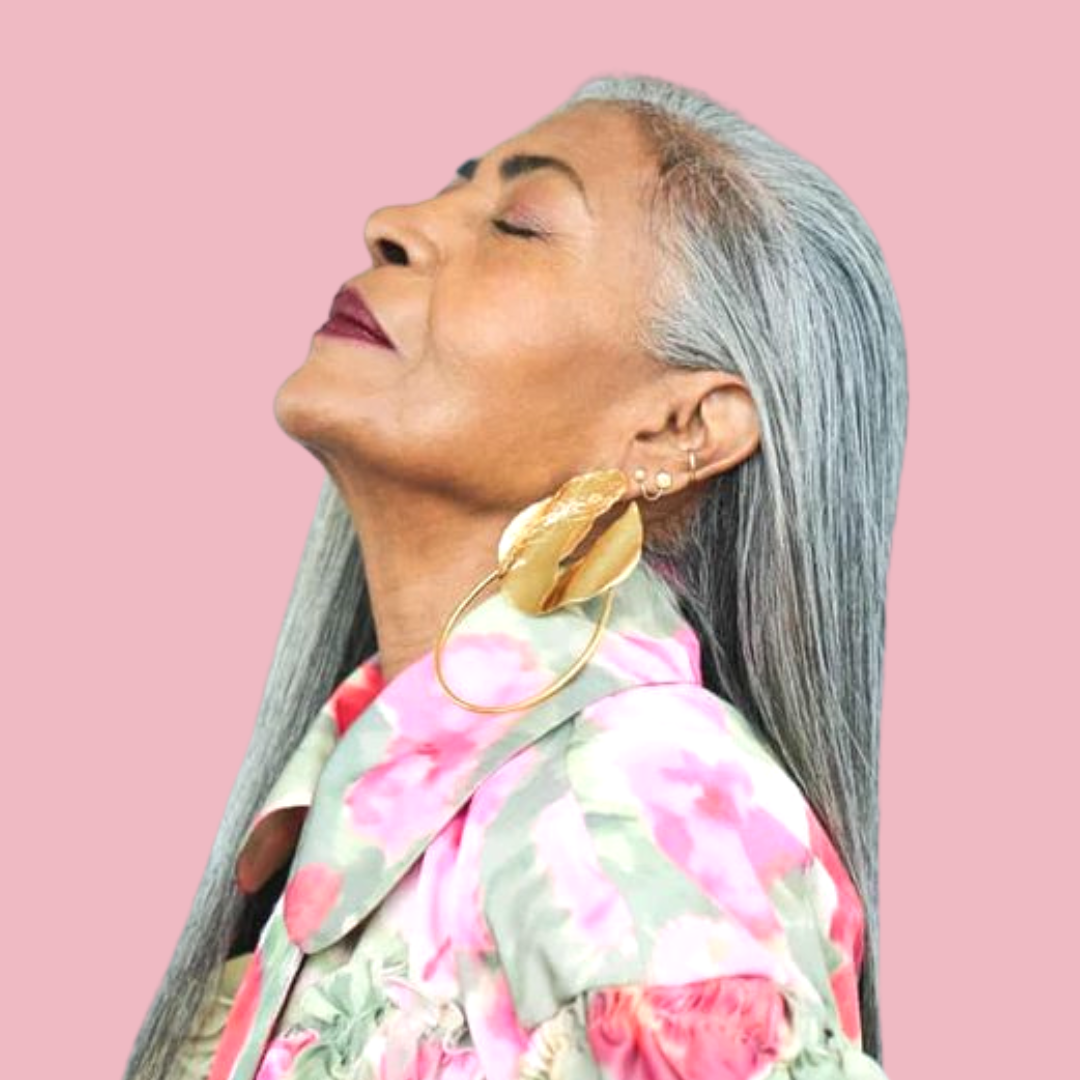 2. Prioritize scalp health for thicker, stronger hair
Often we focus so much on managing our hair that we forget to look after our scalps, but the truth is:

The health of your scalp has a direct effect on the quality and health of your hair.
A nourished, hydrated and protected scalp means your hair grows strong, thick and shiny.
And most importantly, you'll experience less fall out.
Improve your scalp health by:
Reducing exposure to chemicals.
Using a scalp treatment.
Switching to a natural shampoo.
3. Tame frizz with extra hydration
Frizz is the most common problem experienced by women over 50!
The cause of frizz is complicated. Genetics, weather and climate are all factors. But the good news is that....
No matter the cause your frizz, the solution is always the same: hydration.
However, most people get hydration wrong.
They don't realise that you need to lock the hydration in with a moisturizer. Or else it will just seep back out again.

Which is why a good conditioner is so important.
A good conditioner containing oils such as coconut, açai, and mango will hydrate your hair and seal it in for lasting silkiness and shine.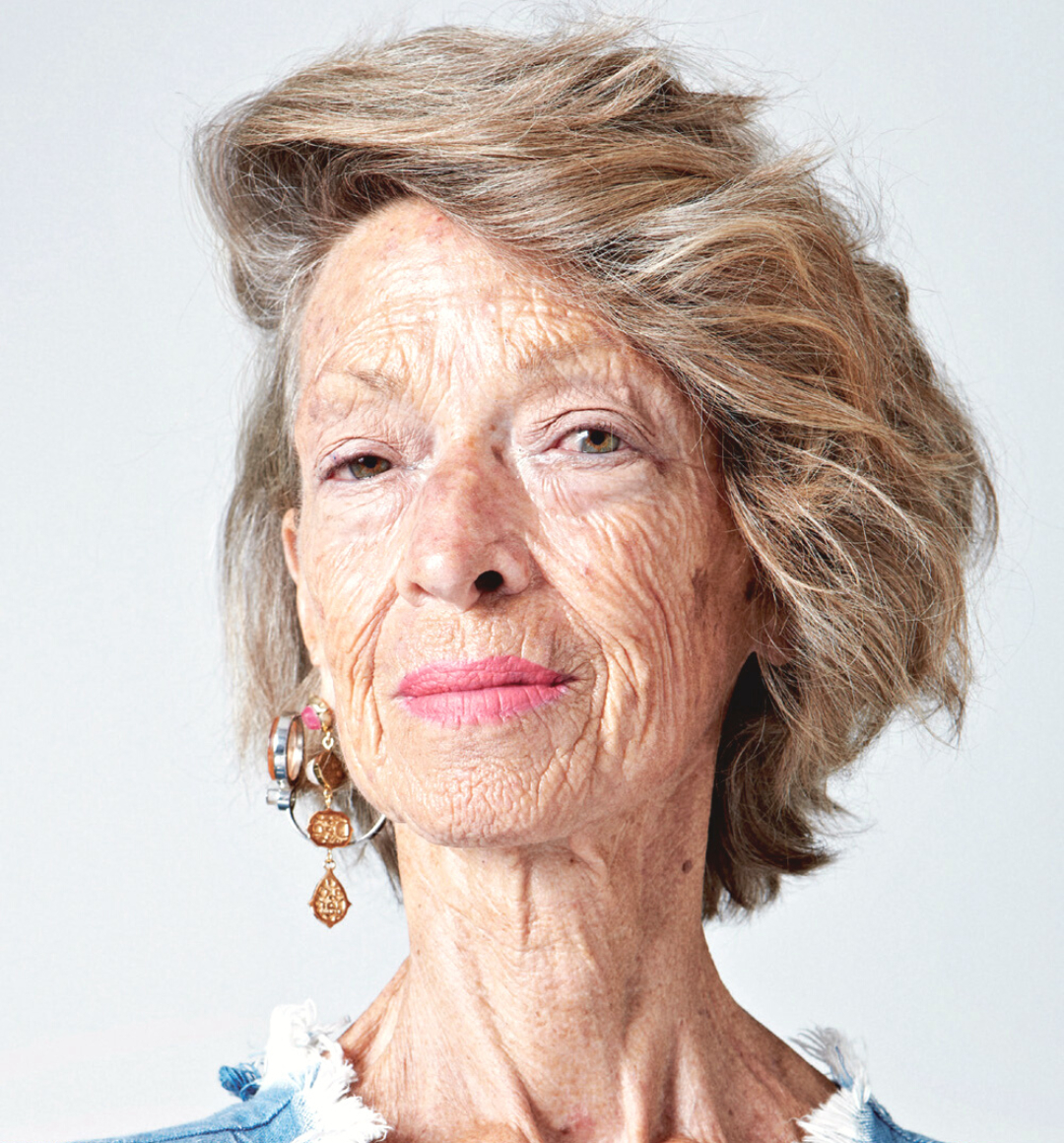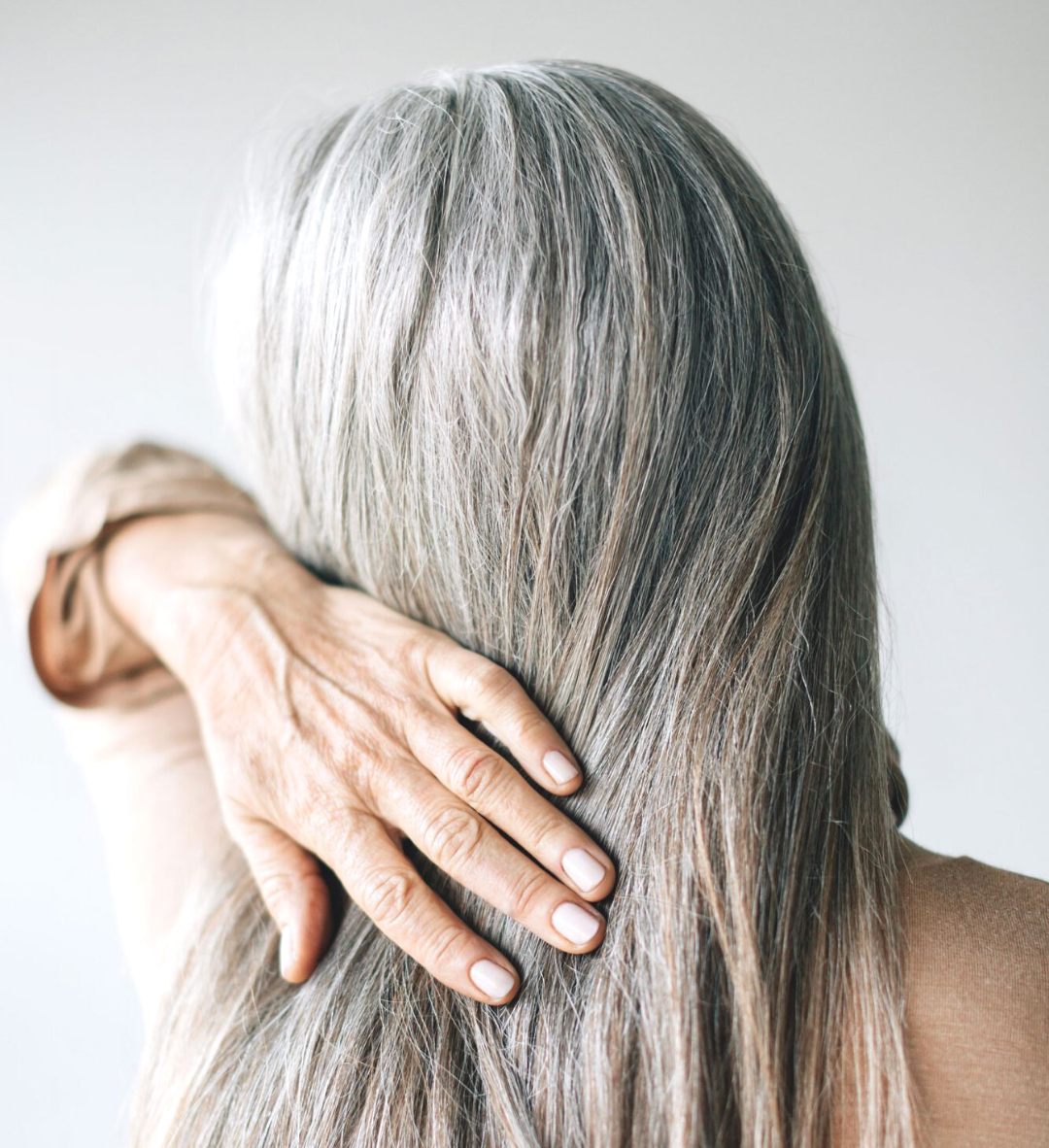 4. Polish your silvers
A common problem encountered by gray haired women is brassiness or yellow tones.
This is caused by UV damage, hard water and pollution.
Investing in a purple shampoo will balance those tones on a surface level.
But the real way to deal with brassiness and damage is to protect your hair with antioxidants.
The highest concentration of antioxidants can be found in açai berries (with 4x the antioxidants of blueberries!).
The Brazilian super-fruit is still a niche ingredient within the hair-care world. But you can find them in Humby Organics "Purple Rain" bars that are specifically made for silver hair.
5. Handle with care for less breakage
Changes in hormones make mature hair more delicate. So you'll want to be extra gentle with it:
Brush softly.
And never when wet.
Swap hair ties for scrunchies.
Pat hair dry with a towel (don't rub).
With a bit of extra love n' care you can prevent a lot of damage, breakage and fall out.
The first order of business is to get rid of your plastic hairbrush and replace it with a bamboo one. Plastic is harsh on hair and causes static frizz.
On the other hand, bamboo bristles gently untangle knots to reduce breakage. While the rounded ends promote blood circulation and boost follicle strength.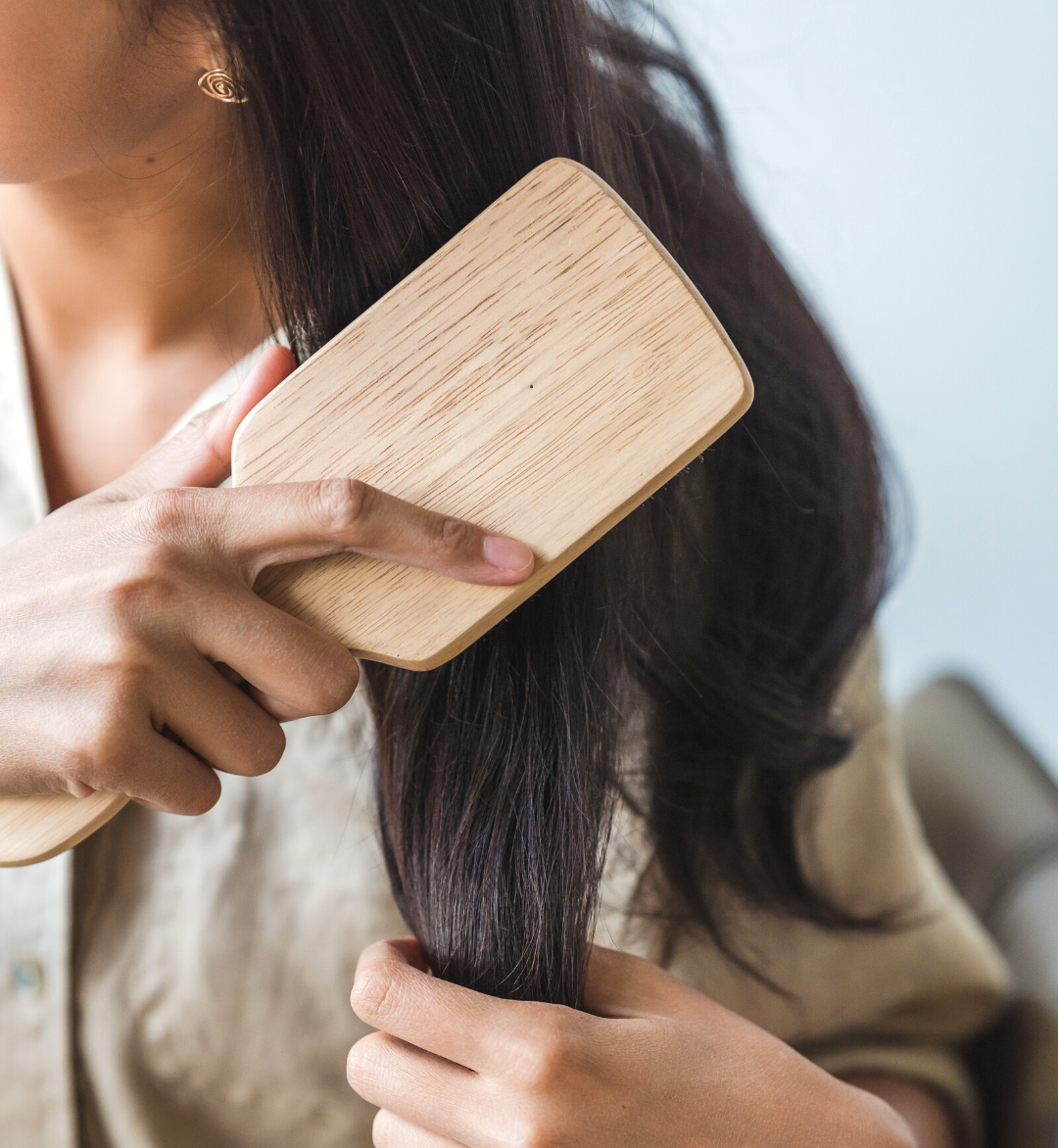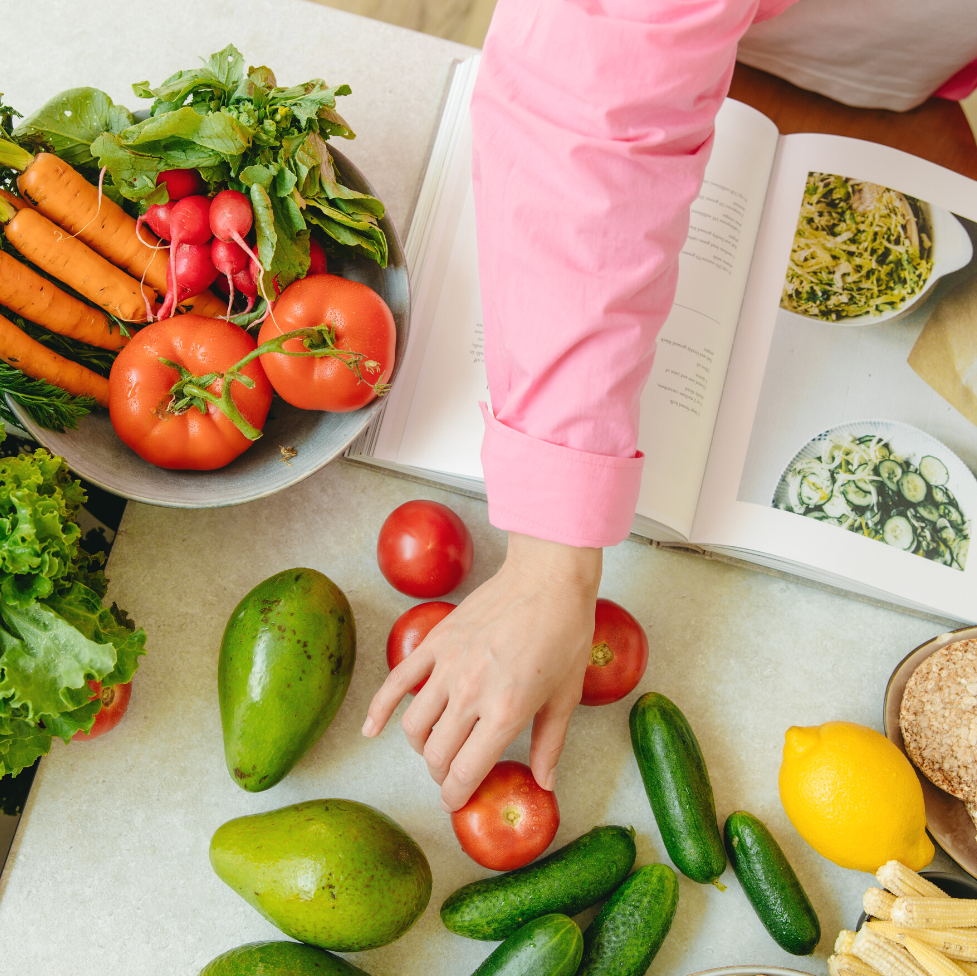 6. Nourish from the inside out 
In addition to eating a well-balanced diet, there are some important vitamins and minerals needed for healthy hair.
Particularly, antioxidants and vitamin A, B, and C.
These foods contain a good source of the vitamins mentioned:
Spinach and leafy greens

- folate, iron, vit A and C.

Eggs

- biotin and protein, needed for hair growth.

Berries

- loaded with vit C and antioxidants, needed for collagen production. 

Avocados

- vit E and fatty acids keep hair moisturized. 

Sweet potato

- vit A for a healthy scalp.
Alternatively you can always buy a hair supplement or multivitamin! 
7. Less styling tools and products = less damage 
Whether your straightening, curling or blow drying, the heat will damage your hair to some degree.
Chemicals found in products like hairspray will dry your hair out and leave it frizzy and dull.

Thankfully theres many heatless and chemical-free alternatives to style your hair.
You can accentuate your waves and curls by how you pat your hair dry.
You can always put the blow dryer on cool mode.
And theres products like silk curling ribbons that get the job done overnight and without heat.
One thing to remember is that...
As your hair health improves so will its manageability.
You'll wake up with smoother, shinier and fuller hair that practically styles itself!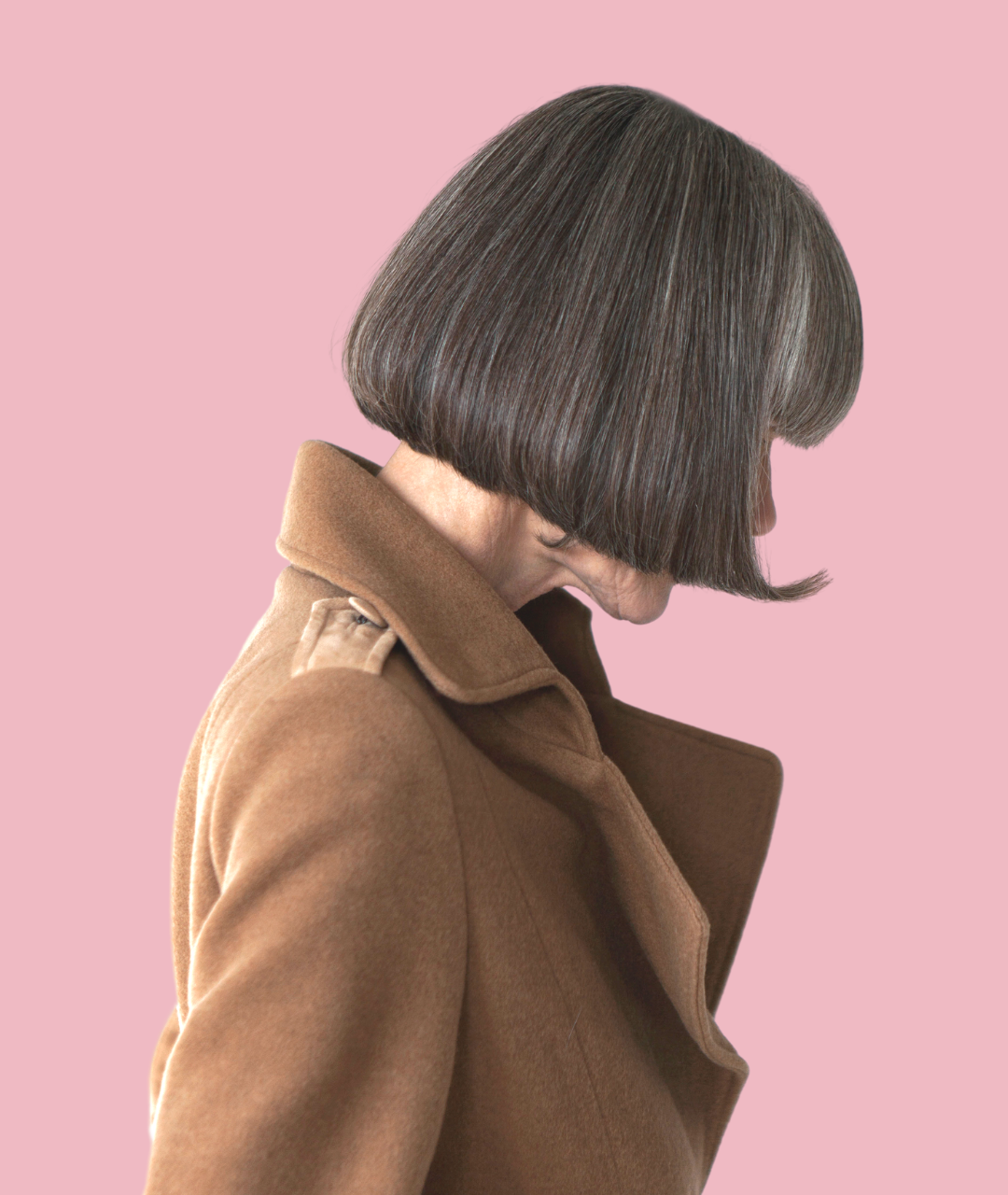 How to begin your hair care journey.
To get you started, I've listed my favorite products for mature hair below. They will...
Smooth frizzy hair. 
Reduce fall out and breakage. 
Restore shine and radiance. 
Calm scalp irritation and itchiness. 
Balance brassy/yellow tones.
Humby Organics has been perfecting their natural shampoo and conditioner bar formula for over 7 years.
And have even developed a bar specifically for gray hair called Purple Rain. It has 100's of 5 star reviews from women over 50 who have seen a complete transformation in the way their hair looks and feels.
I love that they are handmade in the USA, filled with nourishing oils, and last 75-90 washes (bottled shampoo only lasts 25-35 washes!).
Check them out below and thank you for reading 💜