Club Lemon - Shampoo Bar - 3oz Jumbo | Humby Organics
Regular price
Sale price
$19.99 USD
Unit price
per
Sale
Sold out
Club Lemon Shampoo Bar by Humby Organics
Smells like Grandma-ma's lemonade (see below!)
Promotes scalp health for growth and thickness
Leaves a texturized and natural bounce
Creates a glowy shine for non stop admiration
… did we mention the smell?
Here's a little story about Grandma-ma's lemonade...
Everyone loves grandma-ma's lemonade. Kids are running and screaming in the distance. The sun feels like lava. Sweat pourin' off ya brow. Yeah, yeah you're thirsty. But wait a second - if you listen carefully, you can hear the sound of a spoon stirring ice blocks in a glass jar. Cling, Clang. Grandma-ma's lemonade is sweet and refreshing. It tastes like hug of comfort and love. The last drop is a satisfying gulp of joy…temporary brain-freeze… ok it's gone. Now, ya recharged and ready to go back and play with them kids. Show them who's boss.

For a second... imagine that nostalgic smell of grandma-ma's lemonade in a natural and zero waste shampoo bar… that's Club Lemon.

The lemon is wholesome and fresh because it's made from real lemons. You know, the ones that grow on trees. No labs or chemicals around these parts.

The citrus peel contains 10 times the recommended dose of vitamin c which adds vitality and shine to your hair follicles.

If you've smelled a better lemon flavor, send it back and we will happily refund you.
Our shampoo bars are:
Vegan

Cruelty-Free

Earth Friendly

SLS Free

Palm Oil-Free

Preservative-Free

Paraben-Free

Gluten-Free

Responsibly Sourced Ingredients
pH balanced
Handmade in the USA
Ingredients:
Sodium coco sulfate, lemon juice, powdered lemon peel, cocoa butter, coconut oil, essential oils (lemon, orange), apricot seed oil, hemp seed oil, red raspberry seed oil, pro vitamin b complex
*may contain traces of nuts or oxides for coloring 
Why do we use sulfates?
We use Sodium Coco Sulfate because this is a mild cleanser and is what makes the bars lather. These sulfates are made from the fatty acid of coconuts, not petroleum like SLS's.
People often confuse the two because the process to produce both sulfates is the same. SCS has been deemed a safe ingredient by many environmental, cosmetic, and health watchdog groups.
The molecules in SCS are large and cannot penetrate through the skin barrier, while SLS molecules are small and can get into your bloodstream. Once the lather is rinsed from your hair, the SCS goes right down the drain.
And that's what makes SCS drain-safe!
Without the sulfates...
Sulfate-free shampoo bars are like regular soap labeled as shampoo, or a block of oil without the cleanser.

These bars often leave hair being "gummy" or having a "build up" that causes dullness, leaving the hair looking and feeling "lifeless". 

These types of bars need a frequent apple cider vinegar rinse or the oils from the bars stay in the hair and on the scalp.

This is bad because too much oil can cause damage to the hair follicles and cause hair loss in some people.

And too much apple cider vinegar 

can

 cause overall damage to hair and is very drying on the scalp!
After researching this for many years, we have determined that Sodium Coco Sulfate is the best for human health, clean and naturally shiny hair. 
Share
Base Ingredients

Shampoo: sodium coco sulfate, coconut oil, cocoa butter, essential oils*, shea butter, extra virgin olive oil.

Conditioner: rapeseed oil, cocoa butter, coconut oil, extra virgin olive oil, essential oils*, wheat germ oil, shea butter, vegetable glycerin, cetyl alcohol, vitamin B5.

* Vary depending on scent.
How To Use

Step 1 - Lather your bar in warm water.

Step 2 - Massage gently into scalp and hair.

Step 3 - Rinse thoroughly

Step 4 - Enjoy your new Humby Hair
Humby Details

All of our bars are:

- Vegan
- SLS free
- Zero waste
- Cruelty free
- Palm oil free
- Drain safe
Shipping

Your order is packed and shipped from our little warehouse in Ohio, U.S.A.

Delivery times are between 3-6 days after your order is placed.

Shipping price is a flat fee of $6.99

Shipping is free within the USA for orders over $60
Lifetime Guarantee

Your happiness is the most important thing to us.

If you're not 100% in love with these bars at any time, let us know and we will refund you.

Just email: hello@zerowastecartel.com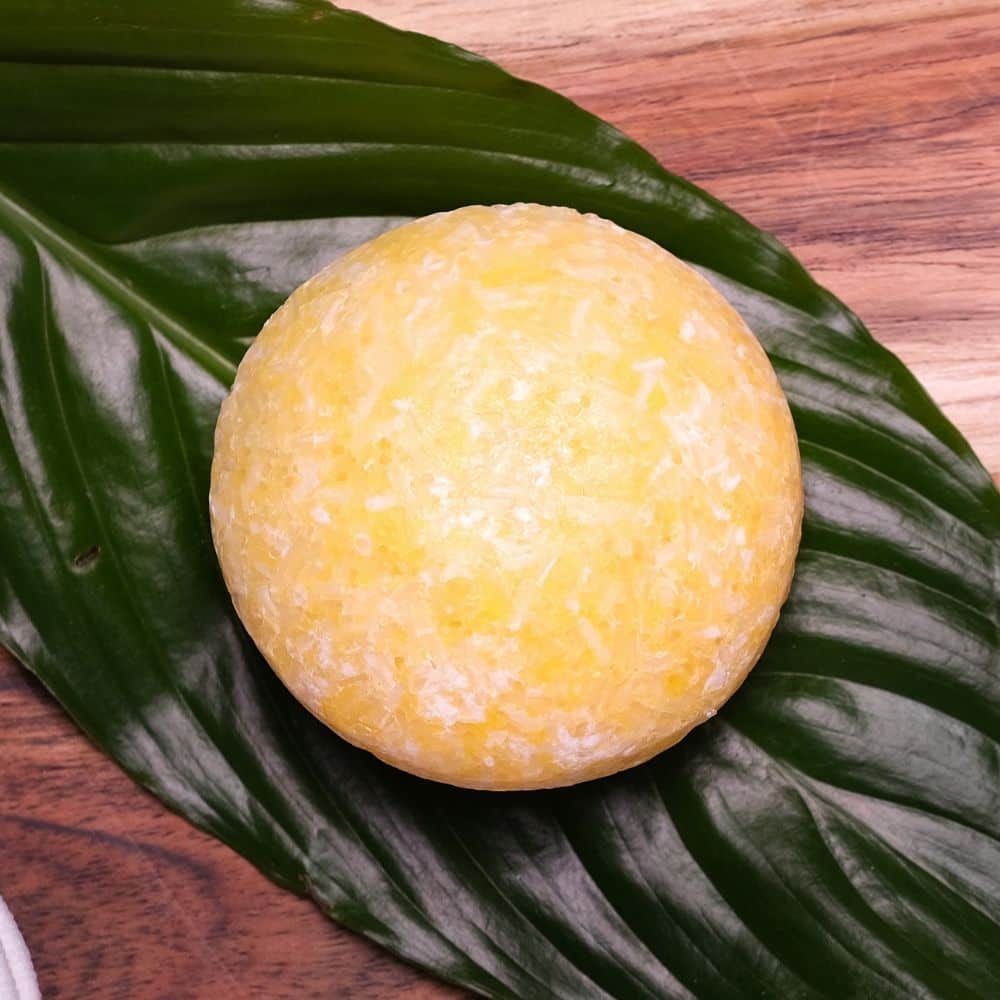 The superstar trio in every bar:
Coconut Oil

Hydrates hair from root to tip. For less frizz, silky smooth locks and non stop admiration.

Wheat Germ Oil

Or 'liquid gold' for hair. Named for its ability to repair damage, reduce breakage and boost shine. 

Cocoa Butter

Nourishes and protects scalp less fall out, more hair growth, and no dandruff.
Zero Waste. All Natural. Handmade in the U.S.A
Completely revitalize your hair with all natural ingredients.
The power of natural ingredients meets 8 years of formula perfecting.
To give you sustainable hair care that completely transforms the look, health and feel of your hair.
- Tames frizz
- Reduces fall out
- Repairs damage
- Adds shine
- Lasts 75-90 washes
Lather

Add water and rub bar into hands to create the perfect lather

Massage

Use fingers to massage gently into your scalp and hair.

Rinse

Rinse hair thoroughly with water and enjoy your Humby Hair.