Zero Waste Shampoo & Conditioner Bar FAQ
How big are the shampoo bars & how long do they last?

We have 2 sizes of shampoo bars- 2.4oz and 3oz. Our 2.4oz sizes last approx 50-75 washes. The 3oz ones last approx 75-90 washes - depending on how long your hair is.
How big are the conditioner bars and how long do they last?
The conditioner bars are all 1.7oz & usually last about 60-80 washes. They don't lather as much as the shampoo bars which is why they often last a lot longer.
How do I store them?
It's best to keep the bars away from water when you're not using them (i.e. on a soap shelf, in a tin or on the sink). This will help them last as long as possible.
Are the shampoo bars PH balanced?
The pH of the bars is almost perfect and is around 7.0.
Do you use sulfates?
Our shampoo & conditioner bars are 100% SLS-free.

They do contain Sodium Coco Sulfate which is a mild cleanser that comes from coconuts and is what makes the bars lather. It's made from the fatty acid of coconuts, not petroleum like SLS's. 
Are they handmade and where?
All of our bars are handmade in Ohio, U.S.A.
Do the bars work in hard water?

Yes! The shampoo bars have lemon juice and lemon oil to eliminate the build-up caused by natural deposits found in hard water.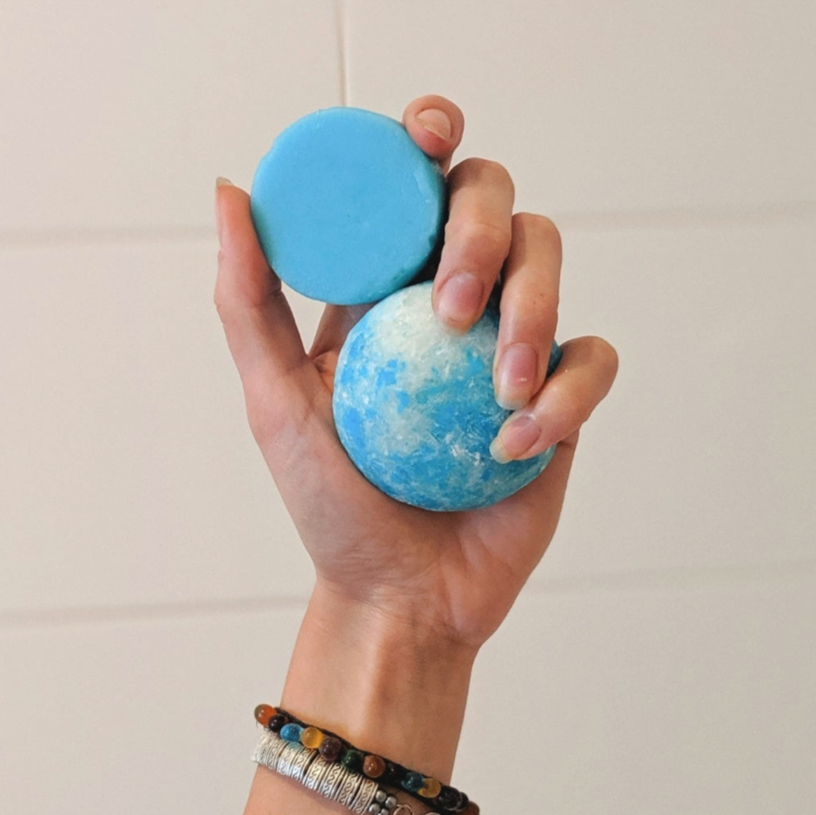 Do I need to use an apple cider vinegar rinse?

Nope. Lemon juice and lemon powder in the bars remove buildup and leave your hair squeaky clean. 
Are they gluten-free?
The shampoo bars are gluten-free.
The conditioner bars are not gluten-free because they contain wheat germ oil. We include it because it's loaded with vitamins and healthy fats to help hair grow and prevents hair loss.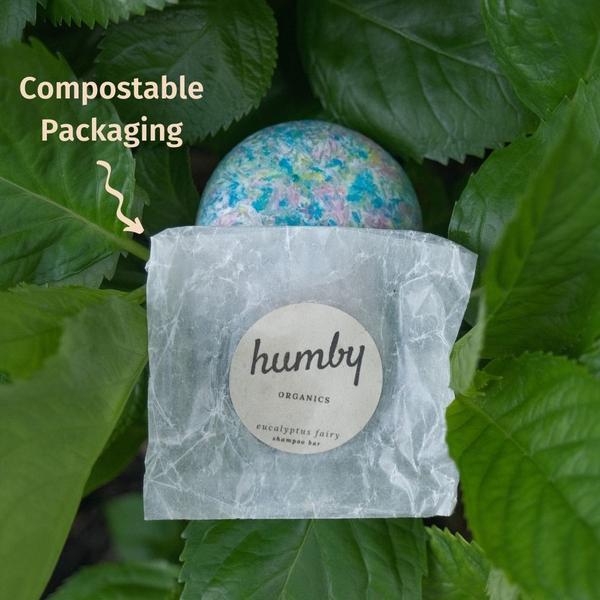 What do you use to color your bars?

Our bars are 100% natural - so we use natural clay to give the bars their wonderful vibrant color.
What packaging do you use?
The labels are sugarcane and the wrap is made of plant fibers. All the packaging is 100% compostable and biodegradable. 
How do I use them?
Shampoo: Just lather in the bath or shower & give your hair a good wash.
Conditioner: We recommend using them all over the hair, even on the roots. Some people are hesitant to do this because they have an oily scalp but the bars re-balance your scalp oils over time. 
I have a nut allergy. Are there traces of nuts in the bars? 

Even though the bars do not contain nuts as a key ingredients (except coconut), there are crushed walnut and almonds in our vegan kitchen.
Therefore, we would not recommend these bars for anyone with a nut allergy because of the cross contamination that may happen within the facilities.
I have an allergy to scents - what bar can I use? 

We've recently launched a new Unscented option specifically for people who are allergic to scents and essential oils. 
If you have any other questions, just drop us an email at hello@zerowastecartel.com and we'll get back to you ASAP.